16.10.2023: Debate "EU Enlargement to the Western Balkans: 20 Years After the Thessaloniki Summit"
We would like to invite you to the debate "EU Enlargement to the Western Balkans: 20 Years After the Thessaloniki Summit",
which will take place on October 16th at 17:00 on the premises of the University of Economics in Prague in room NB 169.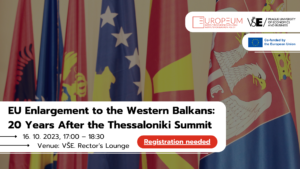 The debate is organised by EUROPEUM Institute for European Policy, Centre for European Studies VŠE and Fakulta mezinárodních vztahů VŠE v Praze /FMV/.
---
Speakers:

 Othon Anastasakis, Director of the European Studies Centre and Director of South East European Studies, St Antony's College, University of Oxford

 Jana Juzová, Senior Research Fellow and Head of Global Europe Programme, EUROPEUM Institute for European Policy

 Rikard Jozwiak, Europe Editor, Radio Free Europe / Radio Liberty

Moderator: Jarolím Antal, Director of Centre for European Studies, Prague University of Economics and Business
---
The Western Balkans countries were promised a future within the European Union in June 2003. Over the twenty years, the EU integration of this region has been marked by a lack of progress in reforms on the side of the candidates for EU membership and repeated blocking of the process on the side of individual EU Member States, resulting in mutual distrust and frustrations. However, the Russian war of aggression against Ukraine put the EU enlargement process in a new context, providing a new impetus for restoring the Union's credibility in its immediate neighbourhoods.
Is there actually a new momentum in the process of the EU enlargement? Will the fast advancement of Ukraine and Moldova toward EU integration motivate the Western Balkans to kick-start the necessary reforms, or will it deepen the mistrust of the region toward the Union? Is the EU ready to accept new members? Should the enlargement process be reformed in order to restore the EU's transformative power?
---
We look forward to seeing you.